SONNY CHHOUN and DAVE WALKER'S BUSINESS PARTNERSHIP: THE "CHICKEN FARM"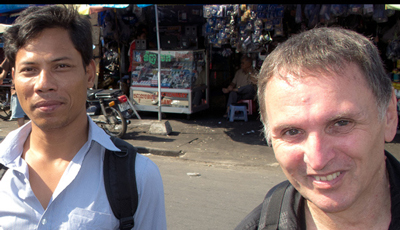 SONNY CHHOUN, was Dave Walker's Cambodian business partner and creative collaborator. Chhoun is an actor and film and documentary production "fixer" based in Siem Reap, Cambodia. He and his wife live in and operate an enormous restaurant on Siem Reap's Airport Road, the Dara BBQ Buffet (National Road #6, No. 308, 200m west of Caltex Station , Group 18, Tapul Village, Sangkat Svay Dangkum, Siem Reap 855, Cambodia.)

After Walker's disappearance, many filmmakers, producers and journalists who had in the past hired Sonny Chhoun or worked with him, vouched for his good character, reputation, trustworthiness, reliability and competence.

Sonny Chhoun befriended Walker around 2010 and on July 17, 2012 Walker and Sonny formed a Cambodian corporation Kuok Snuol Brothers Co., Ltd. In the company's registration Sonny Chhoun is named as its Chairman and Director. The activity of the company was listed as "General Trade, Import Export, Warehouse rental, Transportation, Exchange, Hospital, Construction, School, Film production, Publishing, Factory, Trade agency and Advertisement." Kuok Snuol was the name of the village in which Walker's proposed film The Poorest Man was set and the company operated what Chhoun and Walker named "Animist Farm Films." [Document 1: Kuok Snuol Co. Ltd. registration and charter]
The "Chicken Farm"

As Dave Walker explained to his friends in 2012, the film production financing of The Poorest Man was going to be raised through the sale of free-range "organic" chickens raised on a farm approximately two hours drive from Siem Reap. Walker insisted that a growing affluent Cambodian middle-class were prepared to pay a high premium for organic chicken. Dave Walker stated to his friends that he had invested $20,000 into the "chicken farm." The investment money, Walker said, came from a $100,000 inheritance he received upon the death of his mother in Edmonton, Alberta in November 2011.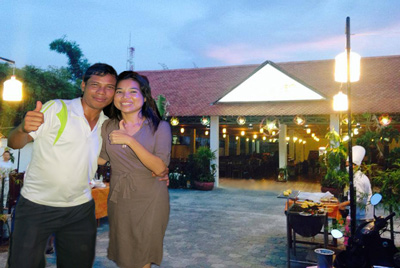 [Enlarge Photo]
Sonny Chhoun and his wife, owners of the Dara BBQ Buffet located on Airport Road in Siem Reap, which they operate and reside in. Chhoun claimed that the $20,000 invested by Dave Walker was spent on chicken farm "start up costs" and a lease on a piece of farm land belonging to his wife's family two hours away from Siem Reap in the remote back jungles of Cambodia, where land can be purchased outright for pennies. Not a single chicken, egg or feather was ever produced. (Composite photo of Dara BBQ Buffet dining area.)
In the end no chickens were raised on the "farm." Shortly after Sonny Chhoun and Dave Walker formed Kuok Snuol Brothers Co. Ltd., while Dave Walker was away visiting in Canada between August and November 2012, Chhoun withdrew most of the $20,000 from the Kuok Snuol Co. bank account in cash increments ranging from $1,000 to $3,500. [Exhibit 2: Bank Account Statement] By December 2012, only $545 remained of Walker's $20,000 investment while not even a feather of a chicken had been produced. Subsequently, Chhoun has been vague on how the money was spent, at one point claiming that the $20,000 was spent on a payment to his wife's family for a twenty-year lease on the parcel of land located two-hours outside of Siem Reap in a remote corner of Cambodia. When challenged that a similar parcel of land could be purchased outright for a few hundred dollars in such a remote part of Cambodia, Chhoun then stated that the money was for corporate "start up" expenses.
When Walker returned to Cambodia in late November 2012 there was no evidence that a conflict arose between him and Chhoun over the spent money nor is there any evidence that Chhoun spent the money without Walker's knowledge. Walker and Chhoun appeared to remain friends and continued to work together on the script for The Poorest Man. Walker, however, became very closed-mouth about the "chicken farm" and when asked how it was going, would simply reply, "It did not work out" without elaborating further.

NEXT PAGE: PROBLEMS WITH SONNY CHHOUN'S STORY OF THE DAY DAVE WALKER DISAPPEARED