PROBLEMS WITH SONNY CHHOUN'S MANY STORIES
SONNY CHHOUN's story was that throughout the day of February 14 he was at his and his wife's restaurant on Airport Road. Sonny claimed that when Dave Walker had not returned Chhoun's telephone calls or texts that day, Chhoun became so concerned that he went to Walker's hotel at about 8:00 P.M. in an attempt to locate him, demanding that the hotel staff open Walker's room and let him look inside. [CHHOUN SWORN STATEMENT.PDF English translation (851k) ] [ Sonny Chhoun Statement PDF Khmer Original ]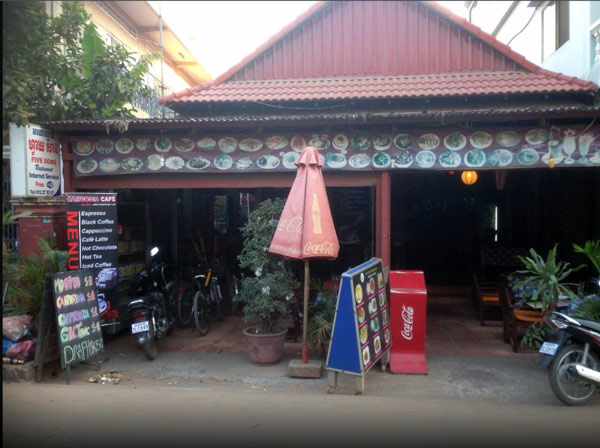 The Five Sons Restaurant in Siem Reap where Dave Walker had breakfast shortly before disappearing and where Sonny Chhoun was seen looking for him two hours before Walker's disappearance. The restaurant is now closed.
Sonny Chhoun Seen at the Five Sons Restaurant before Walker's disappearance

The proprietor and staff of the 'Five Sons Restaurant' where Dave Walker was having breakfast before he disappeared stated that Sonny Chhoun had appeared at the restaurant on a motorbike at about 12:30 P.M. looking for Dave Walker but that Sonny had just missed him only by several minutes -- about 90 minutes before Walker disappeared. [Document 3 - Investigative Report DW2 PDF (63k)]
When Chhoun was asked to confirm his presence all day at his and his wife's restaurant, Chhoun claimed that he was at the Barista Cafe and Sivutha Blvd & National Road at 3:00 P.M.
Discrepancy in Sonny's Timeline at the Green Village Angkor Guest House

Furthermore, according to several witnesses, Sonny Chhoun first appeared at the hotel demanding admission to Dave Walker's room at 4:00 PM -- two hours after his disappearance -- not at 8:00 P.M. as Sonny claimed. The investigative report states:

"During 3 separate interviews with Tang Mol Nalin (Tang) and 3 other 'Green Village Angkor Guest House' staff they stated and corroborated Chhoun had initially attended the guest house at about 1600 [4:00 PM] on February 14 (not 2000 [8:00 P.M.] as he had repeatedly stated and attested) to see Walker where he was told by the duty receptionist, Chin Phillot (Chin) that David Walker (Walker) had departed the guest at about 1400 [2:00 P.M.] that day and had not yet returned. However Chhoun at the time, about 1600, stated to Phillot he had expected Walker to have returned by 1600 because Chhoun and Walker had previously made arrangement to attend a function together that afternoon and Chhoun was adamant Walker had returned unnoticed to his room, and because Walker was not answering Chhoun's telephone calls, could he gain entry to look inside Walker's room whereupon Chin admitted Chhoun to Walker's room, (Room 209) and Chhoun satisfied himself Walker was not present."
When pressed by the investigator as to where he was during the day of February 14, Sonny claimed he was at his restaurant all day until about 7:30 P.M. but could not provide any evidence confirming his claim.
Sonny Reporting Dave Walker Missing Timeline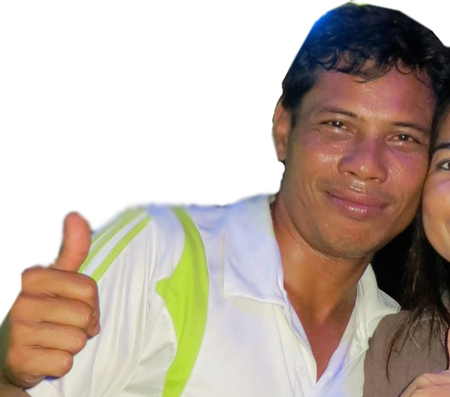 There are discrepancies as to when Chhoun actually went to Cambodian Police to report Walker's disappearance and the extent of his cooperation with the Cambodian authorities. In his sworn statement Chhoun states that according to Cambodian procedure, it was the responsibility of the hotel to report Walker's disappearance but that the hotel refused to do so, insisting that Dave would eventually return. Chhoun attests in his sworn statement that he made the first report on Tuesday, February 18, to the Solac Comret Commune Police.
On Monday, February 17th, Dave Walker's ex-wife PRAIWAN who resides in Ontario, Canada received a telephone call from Sonny Chhoun who she had never met or spoken to before. Chhoun stated that he got her number from Dave's cell phone which Chhoun persuaded the hotel to surrender into his custody on Monday, February 17.
Praiwan stated that Chhoun told her that he found Dave Walker missing on Saturday (Feb 15) after he demanded that the hotel open his room. She stated she clearly remembers that Chhoun said "Saturday" (Feb 15) and not Friday (Feb 14) as she would have found it "strange" that any of Dave's friends would become alarmed after loosing touch with Dave after only several hours if he had told her it that it was Friday that Walker disappeared. Praiwan was also frustrated that Sonny had not contacted Cambodian Police and demanded he do so immediately (with Cambodia 12 hours ahead of Ontario, Canada, it would have been early Tuesday February 18 in Cambodia when Chhoun placed the call to Praiwan.)

Praiwan immediately went to her local police, the Stoney Creek Station of the Hamilton Police Department to report Walker missing in Cambodia. The Hamilton Police actually placed a call to Sonny's cell phone and interviewed Sonny that day, taking a short statement from him which has not been made public.
"the police whine to us that they are getting no help from him."

On February 24, a local journalist in Siem Reap, filed this report to his editor on an interview conducted with Sonny:
Report Mon 24 feb 2014

Re the Dave Walker saga,

I spoke to Dave's work mate Sonny who I find somewhat confusing.

While he is complaining to you that the police are doing nothing, the police whine to us that they are getting no help from him.

For example, at first they did not know Sonny's contact number so they contacted the bureau. Xxxxxx then posted a private message on Sonny's Facebook page telling him the police wanted to speak to him and providing a phone number.

But he did not contact the police. Today he told xxxxxx that had received so many messages that he was too busy to respond to them.

When I met him today he sort of intimated why should he contact the police, why don't they contact him?

He also said the Canadian embassy woman also told him he should file a missing persons complaint to which he told me he answered why should he, he has told people that Dave is missing and that's enough.

Apparently immigration cops also want him to file an official complaint, but again he says why should he, he's not a relative and he has already told some police.

He said a person called him wanting go searching for Dave but he doesn't know this person who is from PP and doesn't want to cooperate.

Etc.

So there is a bit of a communications break down there.

Sonny told me he has spoken to military police.

But he seems very reluctant to deal with immigration police who are in fact in charge of the investigation.

He also said he told military police of his suspicions about who may have done something to Dave.

Sonny is carrying Dave's phone in his backpack and produced it when I spoke to him.

The last person to have called Dave before his disappearance was "Andy."

We at the bureau know Andy as Andy Long.

Andy used to own the infamous Sok San Palace, a nightclub that became an infamous brothel and was subsequently shut down about four years ago in a blaze of publicity, including articles in PP Post.

He now owns VIP Karaoke lounge and a night market.

According to Sonny, the reason Andy was calling Dave was that he and his cohorts were consulting with Dave about opening up a night spot, possibly a wine bar.

One of Dave's "best friends," a Canadian Khmer called Salao Mao (name and spelling provided by Sonny)works for Andy hence the connection.

Sonny thinks Salao is dodgy as he enjoys the girlie karaoke life etc, but adds that he was very close to Dave. .

Sonny suspects him because although he is such a close friend he has shown little interest in Dave's disappearance, according to Sonny.

Sonny also says he lied to him because he said he tried to contact Dave by phone many times but Sonny has Dave's phone and sees no missed calls from Salao.

My talk with Sonny was off the record.
Sonny Tells Yet A Third Version of his story (updated March 9, 2015)
Sonny was telling yet another story in March 2014. In it Sonny stated that he was at Angkor Thom one hour after Dave was last seen at his hotel.

Sonny stated that he planned to film a concert at Angkor Thom on Friday, February 14 and had invited Dave earlier to accompany him, but that Dave told him he was not interested in going. Sonny said that he went to Angkor Thom alone at 3:00 PM and then phoned Dave from there to ask again if Dave changed his mind and wanted to join Sonny at Angkor Thom but that Dave did not answer his phone. Sonny said he called Dave "many times" because he thought that Dave was angry with him because he went to the concert alone without Dave. (Sonny told an investigator that he was at the Barista Cafe Bar at 3:00 PM in Siem Reap on that day but was unwilling to account for his movements for the rest of the day.)

Sonny claims he came home to the Dara BBQ Buffet where he and his wife live at around 7:00 PM, showered and changed, and then rushed to Dave's guest house because he was worried that "something serious" had happened to Dave. Sonny stated it was unusual for Dave not to answer his phone. Sonny claimed that he came to the Green Angkor guest house at 8:00 PM and demanded to be admitted into Dave's room and searched for Dave without finding him and noted that Dave's cell phone was there on charge and that his laptop and things were there.

The staff of the Five Sons Restaurant testified that they saw Sonny looking for Dave at 12:30 PM on the day he disappeared and that Sonny had just missed him having breakfast there by minutes. The the staff at the Green Angkor Guest House insist that Sonny came looking for Dave there at 4:00 PM, within two hours of Dave being last seen, not 8:00 PM as Sonny insists in his statements.

A thorough police investigation would have had to have located in Dave's cell phone service provider record Sonny's alleged calls to Dave Walker that day. Sonny had also claimed to an investigator that he was texting Dave as well as calling him. When asked by the investigator to show the call record and texts on Dave's cell phone, which Sonny had in his possession, Sonny stated that for some strange reason the calls and texts did not appear on Dave's phone. Asked if he could show the record of the calls and texts on his own phone, Sonny stated he had cleared the logs to free up memory on his phone.

Of course, no thorough and professional police investigation was conducted, Dave phone records were not subpoenaed (to my knowledge) nor did the Canadian Government petition the Cambodia Government to be allowed to conduct, or co-conduct, an investigation themselves in Cambodian territory the way for example the French Government had insisted in 2013 when French citizens were found dead in Cambodia. ( https://www.cambodiadaily.com/archives/french-judge-to-investigate-death-of-family-10924/ ) We do not even know in whose possession Dave's laptop and cell phone are currently, and the rest of his property left behind in Cambodia.
Sonny's Attested Statement (March 6) [See: Original Sonny Chhoun statement PDF]

Sonny attests in his March 6 sworn statement that on the weekend of February 15-16 he returned several times to the Angkor guest house to ascertain whether Walker had returned and whether the guest house had filed a missing persons report with the authorities as he was demanding they do. On Sunday, February 16 Sonny gained access to Dave Walker's room and searched it more thoroughly. At this time he found Dave Walker's passport in his bag in the room. Sonny demanded that the hotel allow him to take Walker's laptop and cell phone into his custody. The hotel refused to surrender the laptop but did let Sonny take the cell phone.
Sonny states that the last person according to the phone logs to call Dave Walker before his disappearance was Chandy Long, who placed a call to Walker on Thursday, February 13, the day before his disappearance. It would be several weeks before Cambodian authorities would take custody of the phone and its current location, and whether Sonny's alleged calls to Dave on the morning of February 14 are in Dave Walker's call phone logs, is unknown.
In the ensuing week, Sonny began to level accusations that Chandy Long and Salao Mao were responsible for Walker's abduction and disappearance. Sonny was particularly vehement on Salao Mao's role in Dave Walker's disappearance.
According to Sonny, Salao Mao in the wake of Dave Walker's disappearance was nowhere to be found and shortly afterwards Canadian authorities in the Bangkok Embassy in Thailand (Canada has no embassy or consulate in Cambodia) were alerted that Salao Mao is attempting to renew his Canadian passport that had expired.
On May 1, 2014 Dave Walker's body was discovered and almost immediately Salao Mao left Cambodia for Toronto, Canada on a newly renewed Canadian passport despite the concerns directed to Canada's Foreign Affairs Department about Salao Mao being a person of interest in the disappearance of Walker.
Salao Mao Responds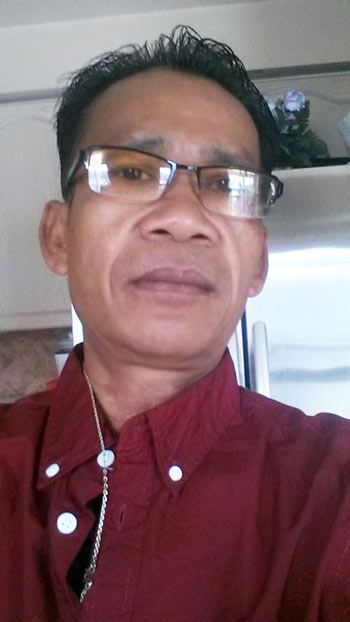 On the evening of Saturday, May 10, accompanied by two family members, Salao Mao attended the wake for Dave Walker at the Not My Dog bar on Queen Street West in Toronto. Salao was questioned that evening about Chandy Long and his relationship to him, and his family members were shocked and surprised by the length and depth of his relationship with Long. They had never heard of Chandy Long until that day and had no idea who Salao was talking about.
Salao Mao insisted that he was not privy to the meetings between Walker and Long, having only driven Long to the meetings. He stated that indeed Chandy Long, Tori Green and Dave Walker had last met at the Karma Bar on Wednesday, February 12, but that Sonny Chhoun attended the meeting that day as well. Salao Mao insisted that both Walker and Chhoun took numerous meetings together with Chandy Long, contradicting Chhoun's claims made in his statement, but stated that he was unaware of what the meetings were about. Salao stated that despite his close friendship with Walker in Canada, over the recent years since returning to Cambodia he had very little contact with Dave Walker and that he felt that Sonny Chhoun resented him and felt jealous of and threatened by his long standing friendship with Dave and in his opinion, it was Sonny who had alienated Dave from Salao over recent years.
Salao Mao's story changed several times as he spoke. He at first claimed that he had "bumped" into Dave Walker by accident on February 12 at the Karma Bar but later stated that he had driven Chandy Long to the Karma Bar specifically for a scheduled meeting with Walker. Salao Mao stated that on Thursday, February 13, Chandy Long had asked him to call Dave Walker and confirm that he was coming to the venue under discussion on the next day on February 14. Salao stated that he told Chandy to call Walker himself, and that Chandy did so on February 13 and that Chandy told him Walker had said he would not be able to attend the meeting on February 14. When asked why specifically Salao insisted that Chandy make the call rather than himself, he offered no explanation.
It goes without saying, that Salao Mao was extremely reticent to speak about Chandy Long and his relationship with him, other than that they had met over thirty years ago as refugees from the Cambodian genocide. When finally asked, whether Chandy Long was "a wolf or a sheep" Salao Mao hesitated and then replied, "He is a sheep who thinks he is a wolf."
Finally, Salao Mao claimed that it was entirely a coincidence that he sought to renew his passport in the wake of Dave Walker's disappearance and departed Cambodia immediately after the discovery of his body. He stated that he had been in Cambodia several years and was long overdue for a return visit to Canada.
Sonny Chhoun stated that he became suspicious of Salao Mao when he dialed Salao's cell phone from Dave's phone and Salao did not pick up. Chhoun said he then called Salao from another number and Salao picked up. Chhoun said that when he asked Salao if he had heard from Dave Walker, despite having called Salao from Dave's phone earlier, Salao said no. Chhoun said his suspicion was further aroused by Salao's apparent lack of interest or concern about Walker's disappearance. Salao on May 10 stated that he did indeed receive a call from Sonny after Walker's disappearance but that he was in a market and could not understand for the noise what Sonny was trying to say to him.
Salao Mao has since refused to take any further questions about Dave Walker's disappearance or relationship with Chandy Long. He currently is in Canada in the Toronto area.
As a primary witness to Dave Walker's activities in the lead-up to his disappearance, Canadian authorities have not interviewed him despite his presence here since May 2014.
Again, as Sonny Chhoun claims he did not know until he took Dave Walker's cell phone into his possession on Sunday, February 16 that the last person to call it before Walker's disappearance was Chandy Long, why then was Sonny so alarmed on Friday, February 14 as early as 4:00 P.M--two hours after Walker was last seen, as reported by hotel staff--or as late as 8:00 P.M., six hours after Walker had been last seen as Chhoun claims--remains a troubling question that Chhoun has not adequately explained. It suggests that Sonny Chhoun knows much more about that day and the possible danger that Walker might have been facing than Chhoun is prepared to reveal.
NEXT PAGE: THE INVESTIGATION AND SEARCH FOR DAVE WALKER)