TABLE OF CONTENTS
8. The Investigation Part 5

9. The Investigation Part 6
13. The Investigation Part 10

14. The Investigation Part 11
16. The Investigation UPDATE new
LINKS
Find Dave Walker
Facebook Group
CRIME SCENE PHOTOS
FILES - DOCUMENTS
CS 1. Locations where Dave Walker was last seen.
Walker-Chhoun Corporate
Kuok Snuol Brothers Co. Ltd
(Animist Farm Films)
Sonny Chhoun Statement PDF File 851kb English
Sonny Chhoun Statement
PDF File 976 kb Khmer
Investigative Report DW2
March 17, 2014 PDF 63 kb
The Disappearance: Valentine's Day - February 14, 2014 - 2:00 PM, Siem Reap, Cambodia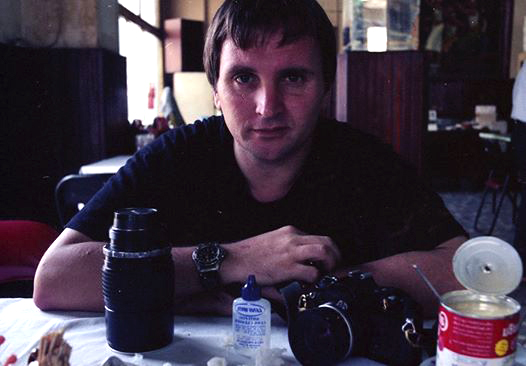 Dave Walker, Phnom Penh, Cambodia. Photo by Al Rockoff ©1991

"I want a Tibetan Sky funeral with flagellants
Beating themselves to the song."

~ Dave Walker
At about 11:00 A.M. Dave Walker, a Canadian writer and filmmaker working and residing in Cambodia, left the Green Village Angkor Guest House (Room 209) Wat Damnak Village, Sankat Salankamroek, Siem Reap, to have breakfast nearby at the 'Five Sons Restaurant' in Sok San Road. After finishing breakfast at about 12:30 P.M.- 1:30 P.M. and stopping off to pick up his laundry, Dave Walker returned to his room at the guest house approximately 1:00 - 1:30 P.M.
According to the housekeeper, Tang Moi Nalin ("Lynn"), the niece of the proprietor of the guest house, at about 1:30 P.M. Walker came by the kitchen where she was working and asked her to clean his room.
When she went to Dave's room about 10 minutes later, Dave was not there, presumably out for what was going to be a period of 15 to 20 minutes as it was his habit to do when his room was being cleaned. His laptop was left in the room in sleep mode and his belongings were later found undisturbed. Walker departed with his wallet and carrying a bottle of water, and at first, his cell phone.
According to Tang Moi, he then returned to his room while she was still cleaning it and connected his cell phone to its charger because, as he told her, the battery was draining. Walker then left carrying a bottle of water. The hotel had a system that would result in power being cut to the room when a key is left hanging behind the desk in the lobby in order to ensure that guests do not leave lights or appliances on while absent from their rooms. Tang stated that she ensured that the key was not hung on the system in order that Dave's phone would remain charging during his absence.
Shortly afterwards Dave Walker was observed at about 2:00 P.M. by the receptionist Chin Phillot who was having lunch at the pool area. Phillot saw Dave Walker come out from the lobby and walk along a pathway leading to the parking lot and the exit into the street beyond.
(See Crime Scene 1: Locations of Disappearance)

Dave Walker would not be sighted again until his body was found on the morning of May 1, 2014 approximately 13 kilometers away in the Angkor Wat Temple Complex near the "Gates of Death" at Angkor Thom.

His disappearance and death are currently unsolved.
---
CASE NARRATIVE
Dave Walker's disappearance was first brought to attention by Sonny Chhoun, his Cambodian business and creative partner in their film company Animist Farm Films, within several hours after Walker was last seen on February 14, 2014.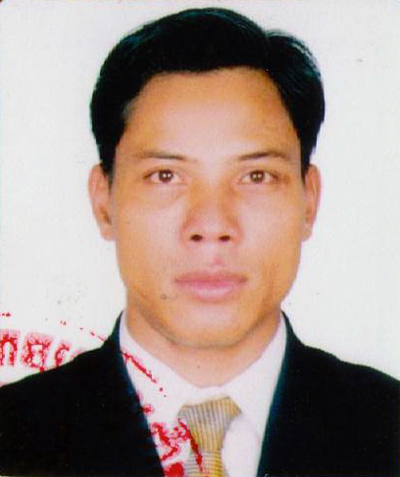 Sonny Chhoun first reported
Dave Walker missing.
Sonny Chhoun in a March 6, 2014 signed sworn statement [See: LINK: PDF Sonny Chhoun Statement English translation (851k)] [LINK: Sonny Chhoung Statement PDF Khmer language original (976k)] attests that on February 14 he became alarmed earlier in the day when Walker had not been returning his calls and texts to confirm plans that they had made for attending a concert that evening.

Sonny Chhoun stated that he was so alarmed that he went to Walker's guest house at 8:00 PM and demanded that the management open Walker's room, which they did. Chhoun searched the room and the bathroom for Walker, observing that Walker had left his cell phone on charge and his MacBook in sleep and that his belongings appeared to be still there and that there was fresh cleaned laundry laid out.
When asked why he became so alarmed on Feb. 14 to raise a hue and cry and demand entry to Dave Walker's room after only several hours of Dave Walker not responding to his cell calls or texts, Sonny Chhoun stated that for approximately seven months prior to February 14, Dave Walker had been attempting to raise $3.2 million in concert with a local reputed underworld figure known as "Andy Long" or "Mr. Sok San", real name CHANDY LONG. Long owned a number of brothels, nightclubs, bars and karaoke bars in Siem Reap, some on Sok San Road, including the notorious Sok San Palace thus his nickname "Mr. Sok San."
Chandy Long is a former Cambodian refugee to Canada in the 1980's where he secured Canadian nationality and eventually returned to Cambodia where he set up operations in Siem Reap with his brother. Chandy Long had recently been arrested on charges related to prostitution in his premises at Sok San Palace and typical for Cambodia, he also holds a colonel's rank in the Cambodian National Military Police in addition to his Canadian passport.
Sonny Chhoun, who had been once briefly employed in one of Long's resorts, stated that he had repeatedly warned Walker to stay away from Long because of his prior known criminal activities and not to enter into any investor financing scheme with Long that might involve the laundering of criminal monies through their proposed film documentary production, a biography of a "good" Oskar Schindler-like Khmer Rouge chief who saved people during the Pol Pot genocide entitled The Poorest Man.
Sonny Chhoun stated that he refused to attend any of the meetings that Dave Walker had with Long, but Dave Walker assured him that he had been introduced to Long by his own close friend, a Cambodian-Canadian who happened to be a long-time associate of Long's named SALAO MAO. Salao had met Long in the refugee camps and journeyed to Canada with him in the 1980s. Salao had recently left his wife of many years in Canada and had returned to Cambodia about five years ago where he fell in with a young Cambodian woman and entered into the employ of Long as a 'gofer' and driver.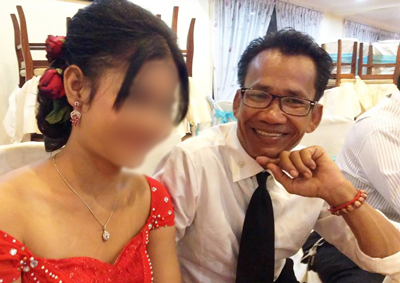 Salao Mao in Siem Reap, circa. 2013
Salao Mao and Dave Walker had formed a deep friendship in Canada about thirty years earlier when Salao had first arrived while Dave was working as an investigator on a lost Cambodian refugee case, a subject of a CTV W-5 report at the time. [CTV Video] They were described as being like "brothers" and Walker over the decades had been a frequent guest at Salao's family functions and in the early 2000s, Salao Mao's family lived in a house Walker had purchased earlier in Keswick, Ontario. Salao was the subject of Dave Walker's 2009 Master's video at York University, "The Augmented Cambodian." Salao, an artist, claims to have survived the genocide during the Pol Pot regime in 1976 by giving a three-man Khmer Rouge execution squad ordered to kill him, art and reading lessons instead, in exchange for them hiding him in the jungle for a duration of three years. (See video: "The Augmented Cambodian Part 2" After the fall of Pol Pot, Salao Mao settled in Toronto as a refugee, painting canvases with a "jungle theme." In the early 1990s in Toronto Walker drove a Volkswagen "hippie" bus entirely hand-painted in a lush jungle scene by Salao.
Chhoun stated that Walker assured him that his close friend, brother Salao, would never get them involved in anything other than investments that were from legitimate sources. Chhoun maintained that he refused to attend the meetings with Long and Salao just the same.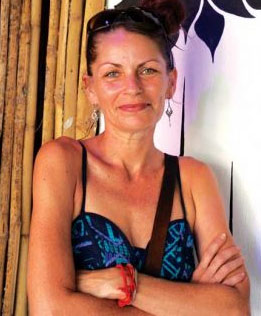 On February 12, two days before he vanished Dave Walker met at the Karma Cafe Bar with its manager Tori Green and Chandy "Andy" Long a reputed organized crime figure in Siem Reap known as "Mr. Sok San."
According to Sonny Chhoun, Dave had last met with Chandy Long and Salao Mao for coffee in the afternoon of Wednesday, February 12 at the Karma Cafe Bar in Sok San Road owned by Long and managed or assistant-managed at the time by TORI GREEN, who also participated in the meeting. Sonny stated that he believed the meeting was to discuss investors Long was supposed to put Dave Walker in touch with.
Tori Green stated that she attended the February 12 meeting to discuss possibly organizing an event that Long had planned to stage at one of his clubs and that plans had been made for Green and Walker to visit the venue on Friday, February 14 in order that she may look at the location while Walker was to meet a potential investor in his film from Indonesia.
Green stated that on Valentine's Day, Friday, February 14, at approximately 5:00 or 6:00 P.M., SALAO MAO had come by the Karma Cafe Bar to pick her up to take her to the venue and that he was driving an SUV belonging to LONG. Green stated that it was very "unusual" to see Salao by himself driving a vehicle unless he was driving his boss Andy Long. Normally, Green said, Salao is transported by his girlfriend on the back of her moped, or he borrows her moped. She stated she was 'annoyed' and slightly 'put out' when she was told by Salao that Walker was not going to join them on the visit to the venue as planned, and it made her nervous and afraid as it appeared that the planned event would involve "women". Green stated she extracted herself from the meeting as quickly as possible and SALAO drove her back to the Karma Bar. When was asked if Salao Mao or Chandy Long made any comments on Dave Walker's absence from the meeting, Green stated they had not. Shortly after returning from the meeting with Chandy Long and Salao Mao, Green stated that Sonny Chhoun called her in an apparently "distraught" state inquiring as to whether she knew where Dave Walker was.
The only troubling problem in this scenario as described above, was that considering Dave Walker had been meeting with Chandy Long for "seven months", there is nothing in Sonny Chhoun's March 6 statement that explains why on that particular February 14, Chhoun would find Dave Walker's not returning his phone calls or texts so alarming that he demanded the guest house open Dave Walker's room that very same day. Sonny seems to be unusually alarmed after only several hours of Walker being out of touch.
NEXT PAGE: THE "CHICKEN FARM" AND PROBLEMS WITH SONNY CHHOUN'S STORY